Implementing ROSE for cytology may save your pathologist from calling a sample nondiagnostic, but not every lab can handle that extra step in the process. As seen on an awarded 2022 USCAP poster presentation [1], a Grundium customer recently solved a problem for ROSE using the Ocus®20 single slide scanner.
THE PROBLEM AND THE SOLUTION
In the times of conventional microscopy, to perform ROSE, a pathologist used to have to be onsite. This is a bottleneck and a big problem, since there's a global shortage of pathologists and an increasing amount of pathology work to do.
Telepathology can help solve the problem by making the analysis take place digitally online. Not only does the pathologist save a lot of time and energy not traveling to the hospital, but they get to really focus on what they do best – analyzing samples.
Especially understaffed labs benefit from telepathology, cutting down on overhead in time and effort spent on accommodating for a pathologist onsite. With telepathology, the lab is free to consult the services of any suitable pathologist online at the time the samples are scanned.
THE FUTURE OF ROSE
ROSE increases the diagnostic rate, i.e. cases with adequate samples for diagnosis. It makes healthcare better, faster, and more convenient. As laboratory information systems are getting better, hospital IT is advancing, and increasing bandwidths are making online work faster it is clear that digital ROSE is being adopted at more healthcare providers in the foreseeable future. Small and practical equipment like the Grundium Ocus enables this change by lowering the threshold for hospitals and clinics to go digital.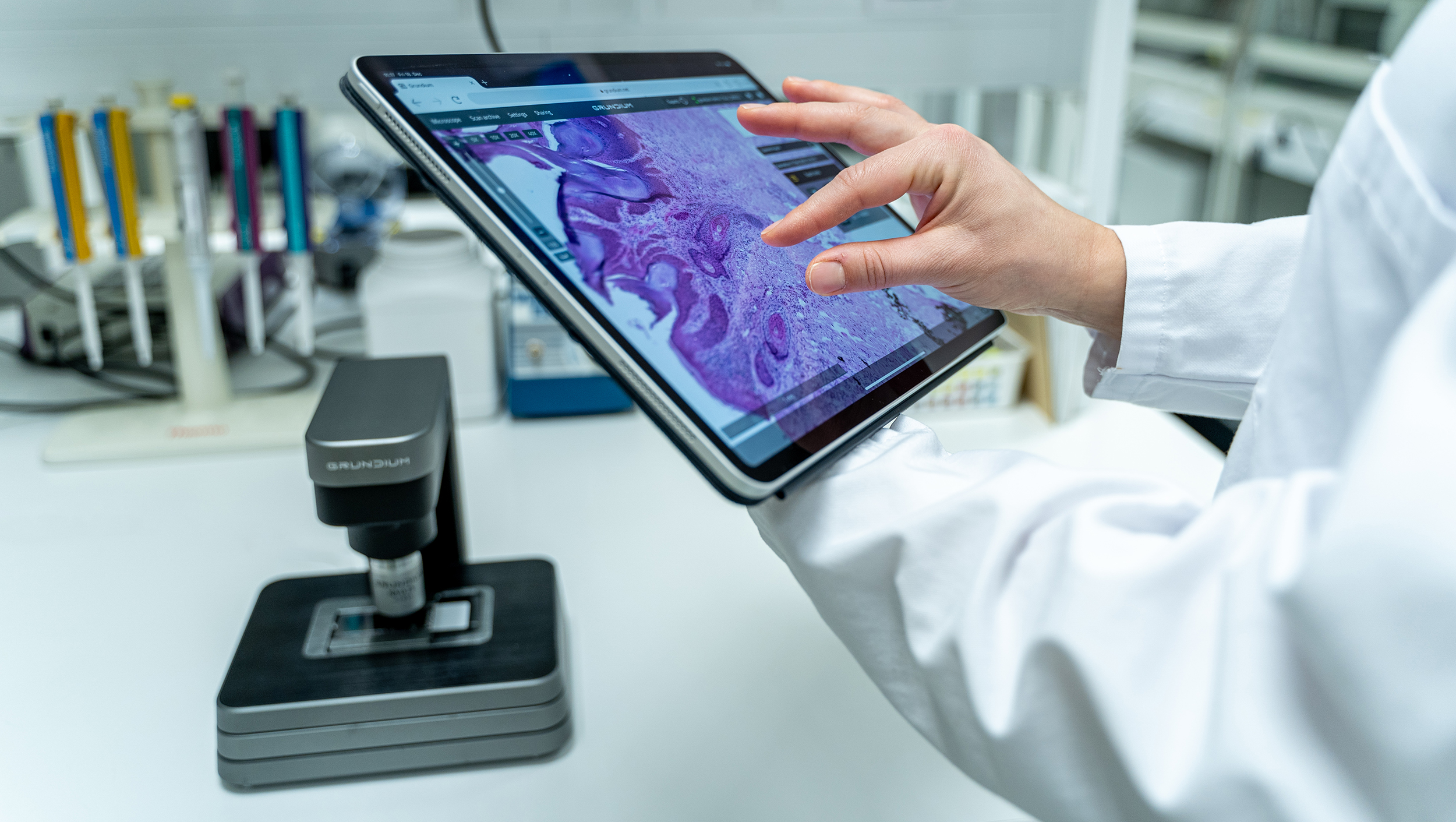 GRUNDIUM OCUS®20 FITS THE BILL
The Ocus series microscope single slide scanners are designed for remote operation and telepathology. The Ocus®20 is operated on any computer that has a screen and a modern browser, like Chrome, Safari, or Edge. Viewing and moving around a sample and zooming in and out is especially intuitive on a touch screen device like a tablet computer. The Grundium Ocus®20 enables fast, simple and sharp imaging of samples. Its small footprint means it can find a spot in the most cluttered of labs.
Its very small footprint, 18 x 18 x 18 cm/ 8 x 8 x 8" means this scanner will easily find a place in any lab, or if run off a battery pack, it can be simply carried from one spot to another, or even wheeled around the hospital on a cart. Even better, the Ocus®20 is so simple to use anybody can be trained to use it in just 15 minutes.
The Ocus® scanners are known for their exceptional image quality. Created by ex-Nokia cameraphone engineers, the patented system creates the sharpest images in the business.
Ocus®20 scanners are used for telecytology ROSE at top hospitals in the USA, Canada, UK, and Italy.
IMAGING MADE PRACTICAL
If you are looking for a small footprint and sharp single slide scanner for your pathology solution or if you want to hear more about how to integrate an Ocus scanner into your system, book a free, non-binding online demo of the Ocus scanners, or just message us with any questions!
In the demo with our expert you will get to ask all the questions and discuss about your needs and how the Ocus scanners would be beneficial for you. We will be happy to talk with you, so feel free to book a demo by clicking the button below! After leaving your information our experts will get back to you regarding the schedule for the demo.
BOOK A DEMO
WHAT IS RAPID ONSITE EVALUATION?
Rapid on-site evaluation (ROSE) is making sure you're using your resources wisely. Rapid on-site evaluation (ROSE) can help you use your resources wisely when performing needle biopsies. Needle biopsy is a minimally invasive procedure to obtain a sample from tissue for analysis. Needle biopsy is typically used for suspicious lesions, such as primary tumors or metastatic malignancies. In the ROSE process the needle biopsy sample is quickly examined to establish whether the taken sample is adequate for a successful diagnosis.
ROSE is shown to be suitable for biopsies obtained from various tissues, like thyroid, breast, or lung. [2,3,4] It is especially useful in challenging sampling methods like endobronchial ultrasound guided biopsy where the probability to miss the right tissue is higher. [4]
When the biopsy sample has been taken, it can be prepared for a glass slide as a smear or touch preparation, stained, and examined for adequacy. The rest of the biopsy material can be used for example for cell or tissue block, or flow cytometry. ROSE can be performed by a cytopathologist or an alternative evaluator such as a cytotechnologist. [5] Sometimes the taken sample turns out to be inadequate – maybe the needle just barely missed the right spot or failed to capture enough tissue. Such samples are called non-diagnostic – a diagnosis just cannot be reached by examining them.
ROSE is an extra step in the diagnostic process to make sure the rest of the steps make sense and can be followed through. By eliminating the processing of potential bad samples ROSE can significantly shorten the total diagnosis time and reduce costs. [4] Both the patient and the healthcare system are spared added stress and costs when there is no need to come back for repeated procedure because the previous sample proved to be nondiagnostic.

[1] Abbas, S., Lynn, T., Liu, H., Lin, F., Zhu, S., Massak, M., Monaco, S. Telecytology at Remote Sites with a Portable Digital Microscope & Slide Scanner: Comparison of Different Scanning Modalities [abstract]. In: USCAP2022; March 19 – 24; Los Angeles, CA. Download PDF here.

[2] Muri, R., Trippel, M., Borner, U., Weidner, S. E., & Trepp, R. (2022). The impact of rapid on-site evaluation (ROSE) on the quality and diagnostic value of thyroid nodule fine-needle aspirations. Thyroid: official journal of the American Thyroid Association, 10.1089/thy.2021.0551. Advance online publication. https://doi.org/10.1089/thy.2021.0551

[3] Torous, V. F., Lopez, S. H., Xu, C., Sweeney, B. J., & Pitman, M. B. (2022). Performance of Rapid On-Site Evaluation in Breast Fine-Needle Aspiration Biopsies: Identifying Areas of Diagnostic Challenge. Acta cytologica, 66(1), 1–13. https://doi.org/10.1159/000518579

[4] Qi, J. C., Liao, L., Zhao, Z., Zeng, H., Wang, T., Hu, M., Wang, L., Wu, Z., Ye, Y., Ou, Y., Cai, Z., Wu, Q., Xu, Q., Zhang, W., Huang, W., Li, H., & Lin, L. (2022). Impact of rapid on-site evaluation combined with endobronchial ultrasound and virtual bronchoscopic navigation in diagnosing peripheral lung lesions. BMC pulmonary medicine, 22(1), 117. https://doi.org/10.1186/s12890-022-01917-z

[5] Pearson, L. N., Layfield, L. J., & Schmidt, R. L. (2018). Cost-effectiveness of rapid on-site evaluation of the adequacy of FNA cytology samples performed by nonpathologists. Cancer cytopathology, 126(10), 839–845. https://doi.org/10.1002/cncy.22047
TALK TO OUR EXPERTS
See the OCUS® portable digital microscope scanner in action – request your non-binding personal online live demo now. A Grundium expert will contact you personally to schedule a suitable 30-minute demo time for you. In the demo we will answer all your questions about which Ocus® scanner fits your needs best, we will talk pricing, share stories about how others are using the scanners, and help you fast forward the digital pathology experience in your lab.
GET A DEMO