Intraoperative frozen sections (IFS) benefit patient care by enabling immediate diagnosis and reducing the need for follow-up surgeries. The lack of pathologists forces hospitals to find new solutions to maintain high-level patient care. Telepathology is particularly suitable for IFS, bringing the samples online to be consulted by any professional worldwide. Read below how Fimlab laboratories have successfully validated digital IFS with Grundium Ocus scanners.
THE PROBLEM AND THE SOLUTION
IFS samples should be usually examined within a 30-minute timeframe. The time constraint forces the pathologist to travel onsite, ready to examine the samples whenever they are ready. However, surgeries don't always go as planned, and the waiting time may vary a lot. With a global shortage of pathologists and a continuously increasing pathology workload, pathologists are losing valuable working time traveling and waiting.
Telepathology can help solve the problem by making the analysis take place digitally online: IFS sample slides are digitized with a scanner and reviewed by the pathologist on a computer screen. Not only does the professional save a lot of time, but they get to really focus on what they do best – analyzing the samples. Especially understaffed labs benefit from telepathology by cutting down on time, cost, and effort spent on accommodating for an onsite pathologist. With telepathology, the lab is free to consult the services of any suitable professional online at the time the samples are scanned.
FIMLAB PILOTED A REMOTE FROZEN SECTION PROCESS
Fimlab is one of the leading laboratory service providers in Finland. Serving an area with 1.3 million people Fimlab runs over 15 million diagnostic tests per year in their 120 locations. To maximize the time the pathologist spends on what they're indispensable at, diagnosing, Fimlab has successfully piloted a digital frozen section process operated by laboratory technicians.
By installing four Grundium Ocus® slide scanners in the pathology department at the central hospital in Lahti, Fimlab laboratories can serve the clinic from Tampere or their other locations. A laboratory technician prepares and scans the samples, and a pathologist can read slides anywhere with a screen and computer connected to the Internet and LIS. Multiple scanners provide flexibility in the scanning process.
The surgeon can get the pathologist's response and act accordingly well within the normal 20 – 30 minutes window with routine samples, such as sentinel lymph node samples. It especially eliminates the need for follow-up surgeries, saving time and money, and most importantly relieving the patient of stressful wait and the potential need for follow-up surgery.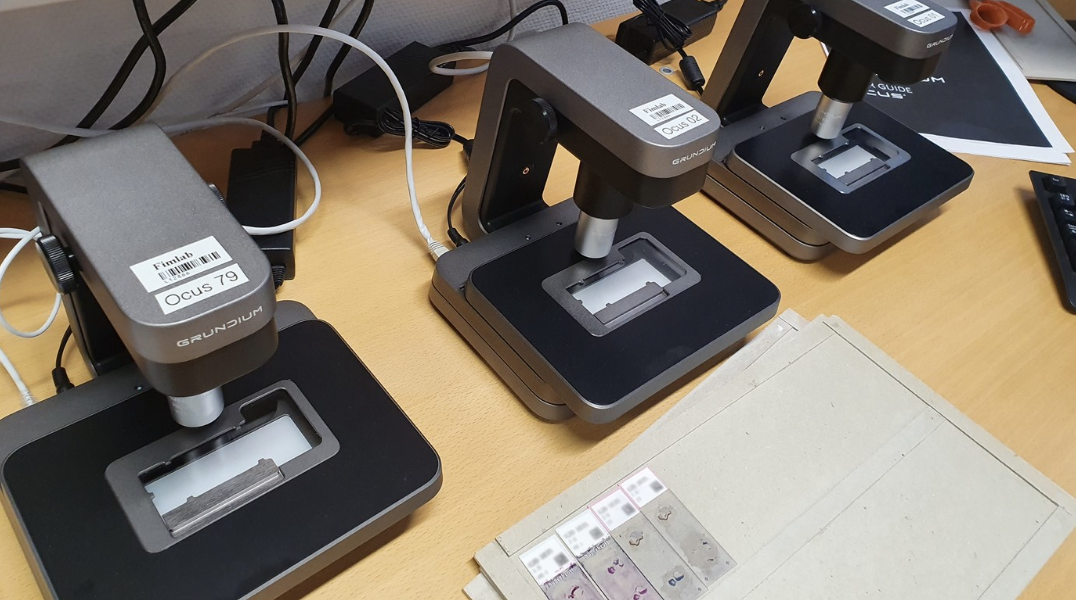 WHAT 'MORE PRACTICAL' REALLY MEANS
Fimlab's Medical Cell Biologist (specializing) Teppo Haapaniemi says from a customer's point of view, that the hospitals are most interested in getting a high-quality diagnosis without delay. Whether Fimlab as their selected partner does it on-site or remotely isn't important, provided that the method has been validated.
Haapaniemi explains that the Grundium Ocus® digital microscope scanners make frozen section pathology almost as fast as the routine analog way: "The Ocus scanner makes interpretation flexible and accurate for the pathologist, the frozen section process is performed smoothly and the interpretation of digitized slides on a large screen is easier than using a conventional microscope. In addition, real time consultation and getting a second opinion from other pathologists is very easy for more difficult cases".
"Remote work is definitely here to stay", Haapaniemi says. "These digital tools enable me to work accurately, safely and comfortably without traveling, even from home" he adds.
Haapaniemi concludes that the clinical validation of Digital Intra-Operative Frozen Section Pathology comes with impressive benefits: "For the hospital very little changes, there are no significant changes to their workflow, but for Fimlab the digital pathology method makes our work more flexible and accurate. That we're saving time means we're saving money. Primarily we're making healthcare better for the patients".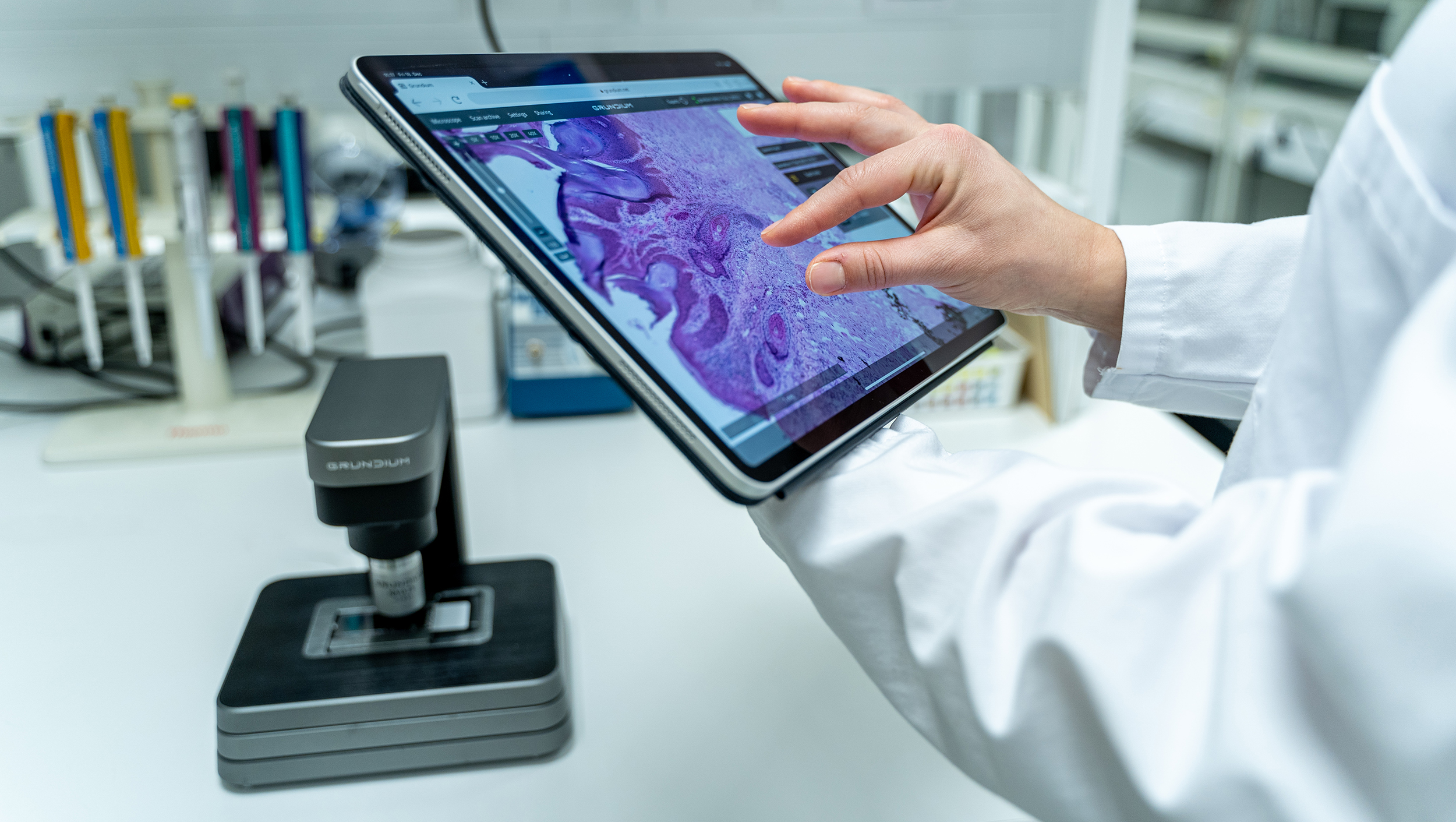 GRUNDIUM OCUS®20 FITS THE BILL
The Ocus series microscope single slide scanners are designed for remote operation and telepathology. The scanners can be operated on any computer that has a screen and a web browser, and the small footprint, 18 x 18 x 18 cm/ 8 x 8 x 8" means the scanners will easily find a place in any lab, or if run off a battery pack, they can be simply carried from one spot to another, or even wheeled around the hospital on a cart.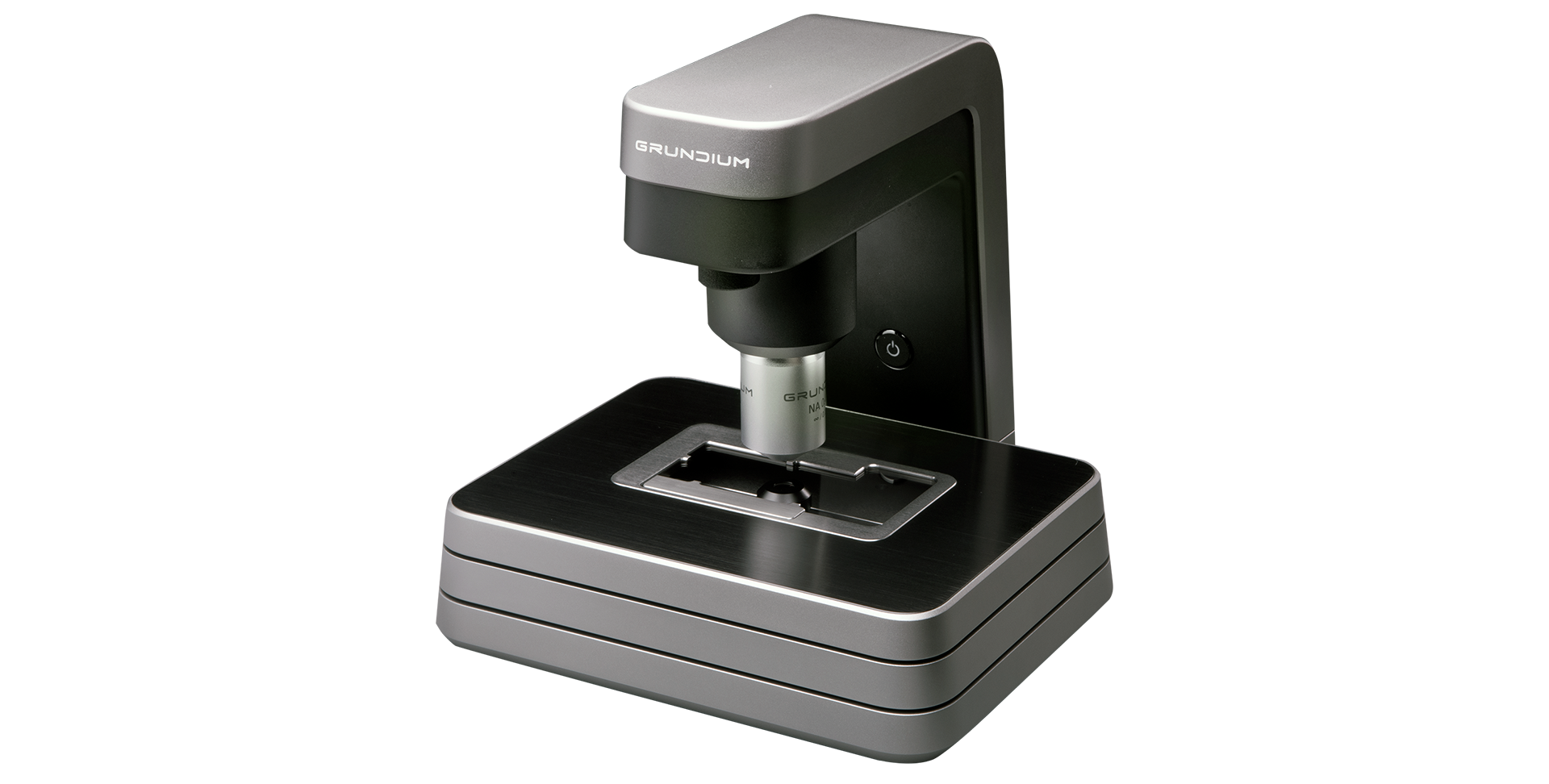 The Ocus®20 provides the state-of-the-art scanning speed (~15 x 15 mm area in one minute) and with the possibility to have the scanner available right where it is needed will make the frozen section process smooth. Running several scanners side by side increases your throughput while still not breaking your bank.
The Ocus slide scanners are known for their exceptional image quality, ease of use and fast scanning, which are all reasons why they are used for telepathology by top hospitals in the USA, Canada, UK, and the EU.
IMAGING MADE PRACTICAL
If you are looking for a small footprint and sharp single slide scanner for your pathology solution or if you want to hear more about how to integrate an Ocus scanner into your system, book a free, non-binding online demo of the Ocus scanners, or just message us with any questions!
In the demo with our expert, you will get to ask all the questions and discuss how the Ocus scanners would be beneficial for your workflow. Just leave your information and our experts will get back to you regarding the schedule for the demo.




Grundium Ocus® scanners are CE marked according to EU 2017/746 regulation for in vitro diagnostic (IVD) medical devices. In the USA, Grundium Ocus® scanners are for research use only (RUO) and not for use in diagnostic procedures.
WHAT IS INTRAOPERATIVE FROZEN SECTION?
Intraoperative frozen section refers to a process where a lesion or other tissue from a patient is sampled, frozen, sliced thin, and prepared on a glass slide to be observed by the pathologist during the surgery. While the patient is still under general anesthesia, the intraoperative frozen section allows for immediate diagnosis and possibly eliminates the need for follow-up surgery. This saves a great deal of time, money, and effort for the medical staff and the patient alike.
IFS may be sampled from primary cancer tissue to determine if all malignant tissue has successfully been removed, or it can be from the sentinel lymph nodes to see if the primary tumor has metastasized. The approach to observing these two different cases is different: the first focuses on the surgical margins to see if there is any cancer left, while the second one seeks to find any cancerous cells in the lymph node. The rest of the tissue material is usually prepared as a paraffin-embedded tissue sample.
IFS assessment of surgery margins has shown to be beneficial for the patients with different cancers like distal cholangiocarcinoma or squamous carcinomas of the head and neck. [2, 3] Sentinel lymph nodes are evaluated with IFS for example in breast cancers. [4]
During surgery the patient is usually under general anesthesia. This generates the time constraint for the frozen section process, as the patient should be kept under only for a minimum time. In a College of American Pathologists study the time from sample to diagnosis is usually less than 20 minutes. [1] However, that timeframe also depends on the surgery type. During long, over 8-hour surgeries an extra 10 minutes may not be significant.
CAP has also published recommendations for validating whole slide imaging systems for diagnostic purposes which apply when validating a microscope scanner for frozen section process. [5]



References

[1] Novis, D. A., & Zarbo, R. J. (1997). Interinstitutional comparison of frozen section turnaround time. A College of American Pathologists Q-Probes study of 32868 frozen sections in 700 hospitals. Archives of pathology & laboratory medicine, 121(6), 559–567.

[2] Chen, Z., Yu, B., Bai, J., Li, Q., Xu, B., Dong, Z., Zhi, X., & Li, T. (2021). The Impact of Intraoperative Frozen Section on Resection Margin Status and Survival of Patients Underwent Pancreatoduodenectomy for Distal Cholangiocarcinoma. Frontiers in oncology, 11, 650585. https://doi.org/10.3389/fonc.2021.650585

[3] Layfield, E. M., Schmidt, R. L., Esebua, M., & Layfield, L. J. (2018). Frozen Section Evaluation of Margin Status in Primary Squamous Cell Carcinomas of the Head and Neck: A Correlation Study of Frozen Section and Final Diagnoses. Head and neck pathology, 12(2), 175–180. https://doi.org/10.1007/s12105-017-0846-6

[4] Namdar, Z. M., Omidifar, N., Arasteh, P., Akrami, M., Tahmasebi, S., Nobandegani, A. S., Sedighi, S., Zangouri, V., & Talei, A. (2021). How accurate is frozen section pathology compared to permanent pathology in detecting involved margins and lymph nodes in breast cancer?. World journal of surgical oncology, 19(1), 261. https://doi.org/10.1186/s12957-021-02365-5

[5] Evans, A. J., Brown, R. W., Bui, M. M., Chlipala, E. A., Lacchetti, C., Milner, D. A., Pantanowitz, L., Parwani, A. V., Reid, K., Riben, M. W., Reuter, V. E., Stephens, L., Stewart, R. L., & Thomas, N. E. (2022). Validating Whole Slide Imaging Systems for Diagnostic Purposes in Pathology. Archives of pathology & laboratory medicine, 146(4), 440–450. https://doi.org/10.5858/arpa.2020-0723-CP